The History of United Trophy & Awards
United Trophy & Awards is heralded for being a world-class company with years of experience serving the Central Florida community. We are passionate, proven, and continue to set high standards of excellence in the region.
It all started from a small-sized trophy store in the heart of Orlando before our operations grew into an all-encompassing high-volume facility. For us, there is nothing more important than meeting our clients' vision for their custom trophies, awards, plaques, apparel, and more.
We are appreciated in the industry for delivering state-of-the-art solutions tailored to meet a client's requirements. This is what makes us the best option in Florida and why we are the right fit for those who want a world-class solution.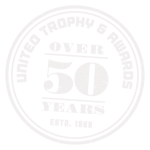 With over 50 years of experience, we are noted for going above and beyond to deliver value. We are proud of this, and it is a big part of what establishes trust for United Trophy & Awards throughout our community. We have made it a top priority to listen to our clients and make sure they are delighted with our work.
Suppose the goal is to go with a company that is all about customer service, professionalism, and attention to detail. In that case, we are the right choice for you.
Due to our expertise and knowledge, clients from around the region continue to have us as their go-to option for awards and trophies. We customize each step of the process and continue to help a wide array of clientele, including athletes, executives, and businesspeople.
By choosing us, you will know the team will pour its heart and soul into each solution. This is what makes us the best at what we do.
We don't want our clients to settle for less.
To ensure that is the case, we provide customized shipping, pristine finishing, use the finest materials, and provide competitive rates. This is an all-in-one solution for those who want top-tier awards and trophies.
At United Trophy & Awards, we remain passionate about the work we do, and that's something customers notice from day one. We are professionally trained, well-equipped, and continue to put in the effort necessary to bring a smile to your face.
Our number one goal is to make sure your important occasion is handled with a high level of care, and the outcome exceeds your expectations.
We are made up of businesspeople, athletes, and executives, who have first-hand experience ordering awards and trophies, ensuring that we keep the utmost quality in our service because we were clients once! Ultimately, our entire staff is passionate about their work and making our client's important occasions memorable.
With United Trophy & Awards by your side, the results will always be picture-perfect!